The year 2016 was an exciting year to say the least.  Some doors close while others open and usher in a new excitement and endless possibilities.  With that said, the Kingdom Heirs are looking for another incredible year in 2017!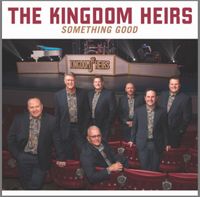 We have already been busy in the studio working on an album scheduled to be released in late January.  The digital download is available
NOW!
 Click
here
to purchase your copy. 
"Something Good"
 has a lot of familiar songs on it that we have always wanted to do!  Songs like: The Master of the Sea, I Know Who Holds Tomorrow, I Want To Walk With My Lord, Telling The World About His Love, How Long Has It Been, You Better Hurry Up, I Just Feel Like Something Good Is About To Happen and Never Made A Promise.  Also featuring the popular song, Calvary Answers For Me (featuring Loren Harris) as well as Damascus Road!  We can hardly wait to start performing these great songs!   
But that's not all!
 We just went through the process of narrowing down and picking the songs for the next
Sonlite Records
album that will be coming out later this year.  Yes folks, we are busy recording brand new music and it was very hard to narrow the songs down for this album.  So many incredible songs to choose from and we can't wait to get in the studio and start recording them!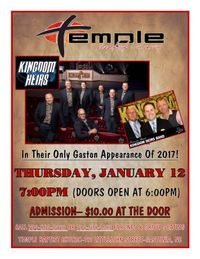 Now on to our winter tour.  January 12th, kicked off our official starting date for 2017 and we are looking forward to performing at a city near you!  So come out and join us!
We only tour for 8 weeks a year and we are very excited to be in North Carolina for a few dates as well as South Carolina, Georgia, Alabama, Mississippi, and our only appearance in West Virginia January 28th (
http://www.gospelmusicconcerts.com
).  Also we will be performing in Virginia, Florida, taking a cruise to the Bahamas on
Templeton Tours
, along with performances in our great home state of Tennessee and then ending our winter tour performing
in the Northern states with performances in Michigan, Indiana and Illinois.  There are annual dates that we love doing as well as some new dates that we can't wait to perform at on this tour.  So many friends and loyal fans we will get to see and hopefully if we are in a city near you, you'll be able to come out this time. If you've never been able to see the Kingdom Heirs live then don't miss your chance!  
Here is the link to our winter tour schedule.
Winter Tour 2017
  Save it to your favorites and visit often.  Dates are subject to change so make sure you get the up to date info you need.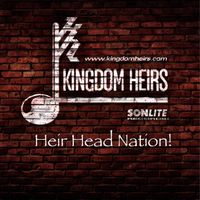 Did you know that you can receive all of the latest happenings within the Kingdom Heirs before it hits the social media sites like Facebook and Twitter?  Also get exclusive up dates and news that others won't get!  Here's how... All you have to do is sign up for our
Heir Mail List
which makes you an official
HEIR HEAD!
 That's right!  We get our great loyal fans that come up to us who are members of the
Heir Head Nation
and say
"Hey! I'm an HEIR HEAD!"
 It's funny yeah but it also gets you the exclusive cool stuff that
nobody
else
gets!  The best part about it is...
IT"S FREE!
 Say what? (
whaaat
)  Yes, you heard it correctly ladies and gentlemen.  
It's free!
Wanna become an Heir Head?
 Here's the link to do it.  
I'M AN 
HEIR HEAD
.   
Now that the comedic stuff is done, we can end this post by saying a big
THANK YOU!
 Thank you for supporting us through purchasing our music, to coming to Dollywood and seeing us perform as well as on our winter tour dates. Thank you for your prayers, your friendship and encouraging words that make what we do day in and day out a little easier. For all of the kind words you express to us not only puts a smile on our faces but lifts our spirits.  So here's to a bigger, brighter year and we thank you for continuing the journey with us!  
God Bless!
The Kingdom Heirs
Kreis, Dennis, Arthur, Jeff, Andy, Loren and Jerry