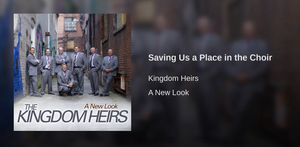 The latest single release off of
"A New Look"
is a catchy four part harmony convention style song by the Kingdom Heirs titled
"Saving Us A Place In The Choir"
.  It was written by the dynamic team of
Rebecca J. Peck and Diane Wilkinson
which are two of the top song writers of our time.  This tune has become a crowd favorite and we are sure it will get your toes a tappin' and your fingers a snappin'!  Call your local Southern Gospel radio station and request the latest song,
"Saving Us A Place in The Choir"
by the Kingdom Heirs!
It's also featured on our sitewide player at the bottom of our website.  Just click on it and take a listen!
As always, Thank you for your support!
God Bless!
The Kingdom Heirs