Jacob Ellison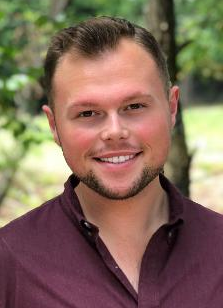 Tenor Singer

From: Candler, North Carolina
Birth Date: 12/04/1996
Previously Traveled With: The Voices of Lee, The Edwards Family, Wes & Karyn Green, The Webb Family
Favorite Food: Fried Chicken
Favorite Singer: Michael McDonald, Michael Buble, Michael English, really, any Michaels. I also love Allen Stone and Ole Borud.
Favorite Movie(s):  Elf, The Judge, Dinner for Schmucks, and A Beautiful Day in the Neighborhood.
Favorite Group: Earth, Wind & Fire, Gaither Vocal Band, Anthony Brown and Group Therapy.
Favorite Album: Gaither Vocal Band - Hymns, Give It Away. The Very Best of Hall and Oats, Motown Collection - Michael McDonald.
Favorite Song: Jesus is the Best Thing - Russ Taff, I Believe in a Hill Called Mount Calvary - Gaither Vocal Band, and When I Think About the Lord.
Favorite Music: Black Gospel, Southern Gospel, and R&B.
Favorite TV Show: The Office, Blacklist, Parks & Rec and Madam Secretary.
Things I Love To Do: Sing, of course. I love to travel and try new things with my best friend and sugar baby love, Laynie (my girlfriend).
Person I Most Admire: My mother, all my grandparents, great aunts, my cousin, Tami Smith and my girlfriend, Laynie.

 
Bio/Story:
I was born in the middle of a family crisis. My father had just died in a car accident, leaving my mother a widow. We did not have much, but I knew I was loved and that when we had nothing, we had Jesus. One thing that our family made a focus is music. I was on the stage and getting booked at churches from the time I was four years old and on. I have had several difficult life experiences, but Momma's lesson of God being enough kept me through it all.
I hope that my life will be a testament of the love and grace of Christ. I pray to achieve this through music that glorifies Him and a lifestyle that does the same.