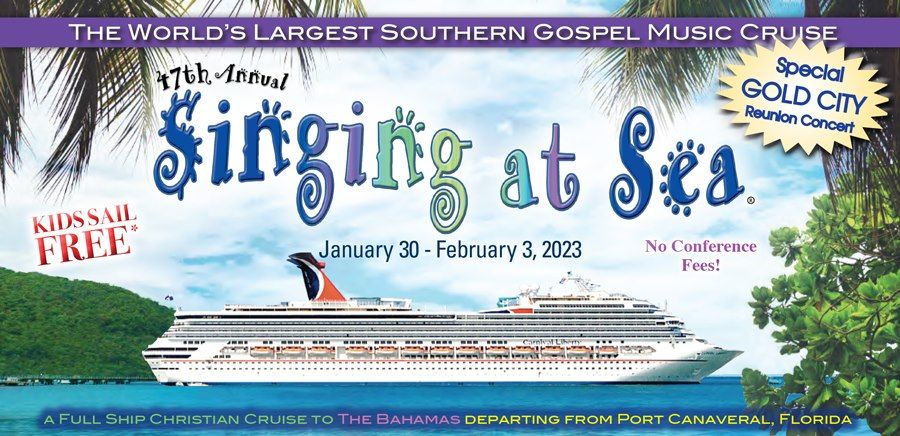 Templeton Tours has announced that the 2022 Singing at Sea Cruise has been postphoned.
Below is their statement explaining why:
"In light of the ongoing Covid-19 pandemic, we have decided to reschedule the 2022 Singing at Sea Cruise. 
Although we had high hopes that the world and cruising would be back to normal by now, that is clearly not the case. The Delta variant has created another situation where States are imposing mask mandates, infections are on the rise, and cruising is operating under a CDC requirement for vaccinated passengers only. Given the spread of the Delta variant, this requirement is likely to be extended through the end of the year and likely into 2022. We therefore decided to reschedule the cruise for January 30 – February 3, 2023. Our hope is that it will be safe to cruise by that time, and there will not be a vaccine requirement. 
The cruise will still depart from Port Canaveral, FL on the Carnival Liberty and sail to Nassau, a private island, and spend a day at sea before returning to Florida. All of the groups, speakers, and entertainers have agreed to the new dates, and the pricing for the cruise will remain the same. 
If you have registered for the cruise, then we understand that you might have a scheduling conflict or work situation that would prevent you from traveling on these dates. If so, you may cancel your reservation up until December 31, 2021 and receive a full refund of the money you have paid towards the cruise. If we have not heard from you by December 31, 2021, then your cruise booking for the January 30 – February 3, 2023 Singing at Sea Cruise will be confirmed, and the normal cancellation policy will be in effect. 
We thank you for your support and the trust you have placed in us for your vacation, and look forward to providing you with a safe vacation full of Inspiration, Relaxation, and Great Southern Gospel Music!"
We hope you'll plan to cruise with us in 2023!  To sign up, visit:  https://www.templetontours.com/singingatsea/index.shtml.