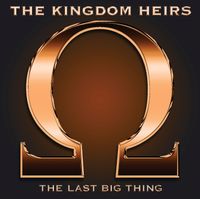 From the highly successful #1 Album Debut on the Billboard Charts of the Kingdom Heirs latest album "The Last Big Thing" comes the second radio release written by none other than Gerald Crabb.  "Heroes Of Faith" is a song about our strength through faith and what it can accomplish if we just believe.  With it's up beat, driving tempo to the vocal stylings of Jerry Martin backed with the huge harmonies of the Kingdom Heirs, "Heroes Of Faith" is an exciting song performed live as well as heard on radio.  "Heroes Of Faith" is quickly climbing the charts and has just hit the Top 5 spot!   Call your local Southern Gospel Radio Station and request "Heroes of Faith" now!  All of our loyal Heir Heads out there make your voices heard!  You can also find it on all of your favorite music streaming channels like Spotify, iTunes, Pandora, Amazon Music, Sound Cloud, Google Play and many others!   
Add "Heroes Of Faith" to your playlist and share it with your friends and families through all of your favorite streaming services.  Most of all, enjoy the message of the song that will get you fired up about the power of FAITH. 
Here's a message from the writter himself, Mr. Gerald Crabb. 
Don't forget that you can purchase "The Last Big Thing" online through our website as well as all of  these fine digital outlets here!